Who we are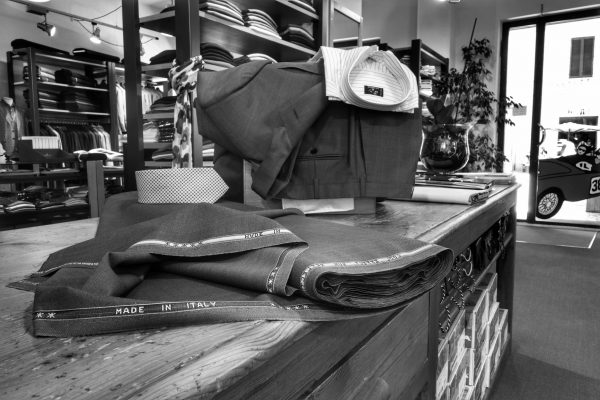 Franco Montanelli's story begins with a handcart filled with fabrics that was transported around Italy by his grandfather Amedeo. Giuseppe, Amedeo's son, decided to give roots to the business by opening a small fabric emporium in Massa in 1927, which gradually expanded into a clothing store.
Massimo, Franco's son, is at the helm of Franco Montanelli today.
The store in Lucca is its second home. The store was opened in 2002, with Massimo's father, and it has become a symbol of his values passed on by his family over time: a passion for made-in-Italy tailoring, for attention to detail and for the selection of quality products and fabrics.
Massimo's memories date back to when he would watch his father from the steps of the shop as he unrolled metres of fabric to measure out clothes to be made; and when, as a boy, he would bury his hands in the baskets of cloth during the most important fashion conventions… His memories evoke the smell of the jackets hanging in the shop among which he'd play hide-and-seek as a child, and the touch of the fabrics that were an intrinsic part of the family.
Massimo was brought up on a diet of bread and cotton, water and linen.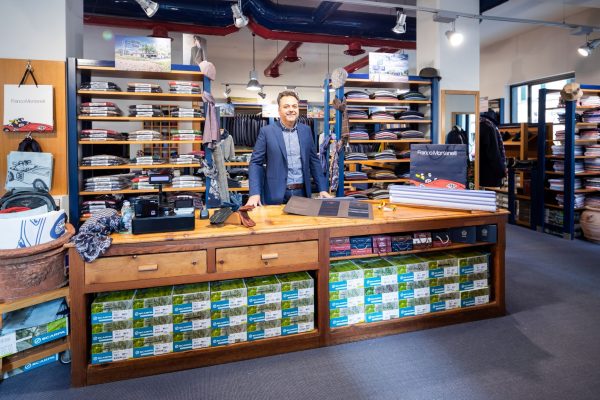 His cultural background has always been coloured by elegance, craftsmanship, fabric and stitching hands.
With time, he has learned to appreciate the beauty of made-to-measure items of clothing, their unique soul belonging to one designated person for a specific event, sewn by expert hands and confectioned with the care of a personal gift.
As a result, the "made-to-measure" concept has become central to his life and philosophy. He attended a designer course at the Secoli institute in Milan, and since has made personal development a daily mission.
Franco Montanelli produces clothes that have been researched and are wrapped in an idea and a beating heart, with each fibre reflecting the heartbeat of its wearer.
Above all we believe that we are what we think, what we say and that what we wear tells our story. Because of this, we treasure the origin of our products, and closely check their sustainability, quality and authenticity.
The backdrop to the shop is the splendid ancient walls surrounding the city of Lucca. In the heart of Tuscany, there's a corner of home waiting for you. The care we put in our clothes is the same you'll find in our relationship with our clients.
We believe in communication, in the exchange of words and not just of goods, in the potency of human contact, in the meeting of lives and stories. For this reason we greet our guests with the respect and dedication we save for our work; we tender to their needs and taste with the same rigor we apply to the manufacture of our garments.
Take care of the things that can't be surpassed. 
This is our motto.
In a world in which everything, including fashion, is "fast", we try to create products that will last, that talk about us and tell a story that can be passed on to our children.
We care deeply for our garments since they are the fruit of ancient, meticulous and arduous craftsmanship; Franco Montanelli trust and respect those who produce them because we believe that each item represents not just a product, but a value first and foremost.
We love and believe in our work, and for this reason our time is spent not just in the quest for quality but also on people, those behind the scenes and those who step into our shop every day.
Contact us:
+39 0583-440553