Upon his father and grandfather legacy Franco Montanelli specialized himself in male fashion, acquiring a great wealth of experiences. The first Montanelli's shop in Massa in the Sixties became a reference in Tuscany for unparalleled quality and depth of range. This initial success paved the road to a business expansion during the Seventies, culminating with distributorship agreement for Italy with Daniel Hechter, a widely recognised glamour and trendy french firm at the time.
Following to successful experiences in Paris and Milan Franco Montanelli settled down in Tuscany, opening his own male fashion shop in Massa and later on in Lucca. Here he started to hand over the lifetime amazing experience to his son Massimo, who is the representative of Montanelli's family forth generation.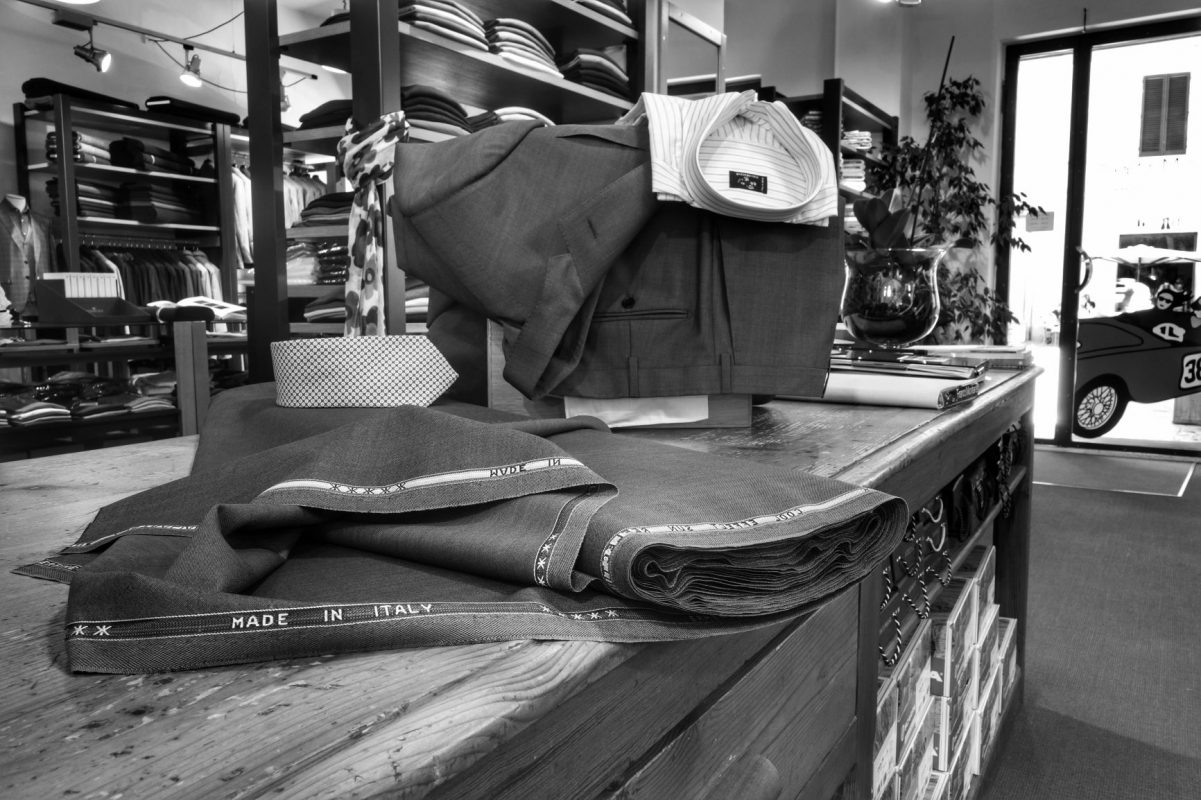 Massimo Montanelli took over from his father injecting a modernised style and look and feel.
They opted to enter the high quality tailor made male fashion segment, with a special focus on suits and shirts.
The company's mission is the search of the best materials and workmanship along with a distinctive style typical of a world recognised brand.
Currently, beyond long lasting partnerships with male high quality fashion firms, Franco Montanelli's core business consists of own production of unique and fully customized items.
The distinctive trait is both the choice of the best materials and the homemade quality manufacturing, perfectly in line with the genuine Made in Italy philosophy.
This family business actually started at the end of 20th century with Massimo's great grandfather, a textile salesman travelling all across Italy.
In 2004 the shop moved in Lucca where, in a very central location, Franco Montanelli's business is still headquartered and continues to successfully operate.
Since the Sixties, Franco Montanelli is helding a dialogue in the round with the most prestigious italian companies in the production of tissue and silk, through an enlightened and wise look that restores craftsmanship and tradition values and plays them in the present through the telling of a great Italian history.
From raw material to production, from weaving to packaging, Franco Montanelli follows with passion the extraordinary paths in the atlas of the Made in Italy, recreating a territorial, historical and cultural silhouette typical of our beautiful country. From east to west, from North to South, the "wool roads" are represented by the woolen mills of Biella, in Piedmont, including the excellent Ermenegildo Zegna, Zegna Baruffa, Loro Piana, Vitale Barberis Canonico, while the silk streets in Lombardy have made Como the leading city in the production and processing of silk. This extraordinary itinerary follows the Alpine arc between natural creeks and rolling plains, and touches Veneto and its important cotton mills, with Albini and Tessitura Monti, to mention a few. Other top partners for fabrics : Drapers Italy, Holland&Scherry, Scabal.
A path rich in history, culture and traditional craftsmanship that goes on in the best tailors' shops located in central Italy, between Tuscany, Umbria and Marche, and south to Campania and Puglia.
There were tailors in Milan who were collectors: now that profession disappearing, being replaced by sewing machines. The inevitable evolution of productivity and research was a loss. Many of the best tailors had an artistic sensibility and they were often collectors, such as Italo Magliano. It was a pleasure to go to a tailor; one could talk about art while the dress was being sewn.
Giuseppe Panza, from "Memories of a collector"
More info: info@francomontanelli.it / +39 0583-440553.